Sleep is gone yet again! I have no idea what I've done to it but it ran away! When it gets back I'm giving it a solid beating!
For now I'll keep myself busy posting some FOTD'sFace of the Day Pictures!
This late night, while nod escapes me, I give to you, some looks from a few weeks ago!
Sunset Eyes

What I used:
MAC Copper Shadow
MAC Copper Pigment
MAC Goldmine Shadow
MAC Golden Lemon Pigment
Bare Escentuals Big Tease Mascara
Bare Escentuals Lumnious Lash Mascara in Bronze
Sunny Eyes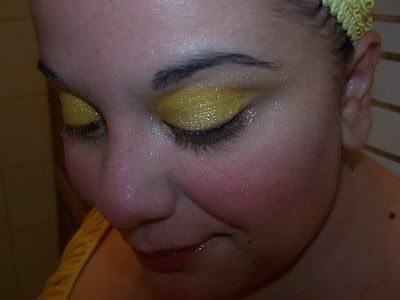 What I Used:
MAC Primary Yellow Shadow
MAC Golden Lemon Pigment
Urban Decay Glitter Eyeliner in Midnight Cowboy
Urban Decay Eyeshadow in Midnight Cowboy
Urban Decay Loose Shimmering Powder in Honey
MJ Mascara