Face of the Day
Greeeeeeeeeeeeeeeeeeeeeeeeeeeeeeeeeeen baby!
Two Green L@@KS for the price of one!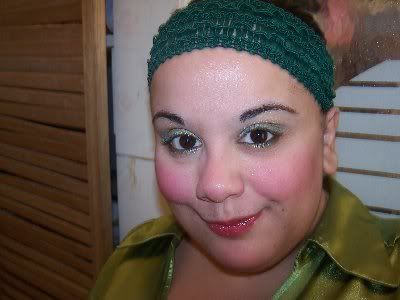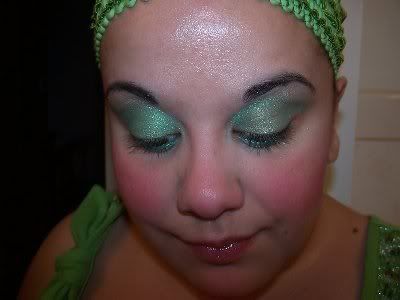 Love It? Hate it? Suggestions, Comments, Questions?
This is by my favorite in a really long time. When I showed this to my hmmmm what to call him…I'll have a think and get back to you….anyway when I showed him, he said it was a bit understated for me! I love it though! It's probably my best blending to date! I thought it was great color placement! Hooray for me and my mad skillz!
I only used two colors for the entire look and some shimmering white loose powder!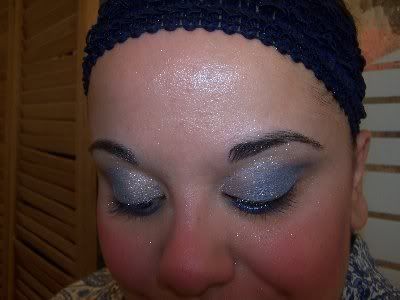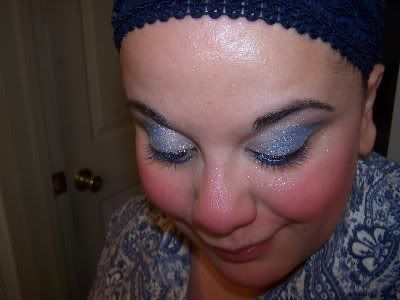 Eyes:
Bnever Shimmering Loose Powder
Bnever White Eyeshadow
Urban Decay Deluxe Eyeshadow in Adore!
Hmmmm I like understated 😉
Questions, Comments, Suggestions? I'm ears!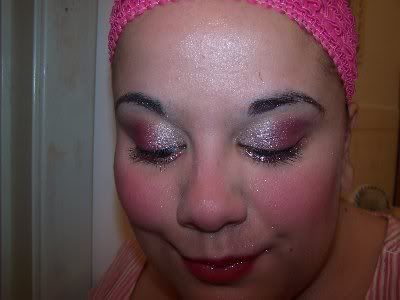 I'm feeling generous today so I'll give you the entire lot of items used:
Eyes:
Two Faced Lash Injection
Bare Minerals Beautifully Luminous Lashes in Garnet
Lavshuca Pink Quad
MAC Pigment in Lily White
MAC Eyeshadow in Passionate

Lips:
Lancome Juicy Gelee
Smashing Lipstick in Smashing Bacio
Mark Glow Baby Glow Lipgloss in Pink Crush

Cheeks:
Nars Blush in Orgasm and Angelika (I layered Orgasm over Angelika)

Oh my I've gone and been so vain with all these pictures (far from it actually I'm just too much in a good mood to notice how horrid some of these pics actually look!)! Slap me I can't help myself!
A marriage between green and aqua!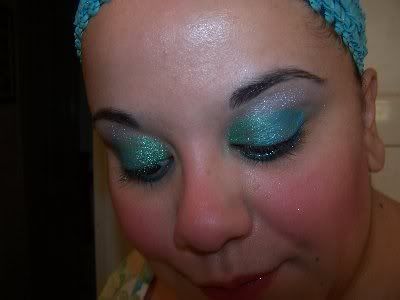 What I used:
Urban Decay Deluxe Shadow in Graffti
Urban Decay Deluxe Shadow in Peace
Urban Decay 24/7 Glide On Eye Pencil in Electric
Urban Decay 24/7 Glide On Eye Pencil in Covet
MAC Pigment in Frost
Was quite the little cam whore Tuesday! I reverted back to using some Urban Decay today! It's been a while since I used UD!
This is what I've come up with: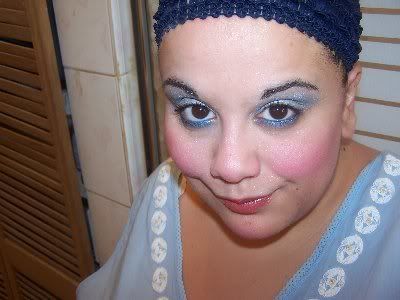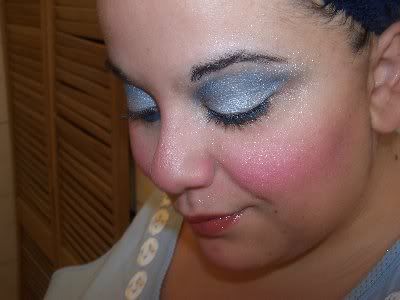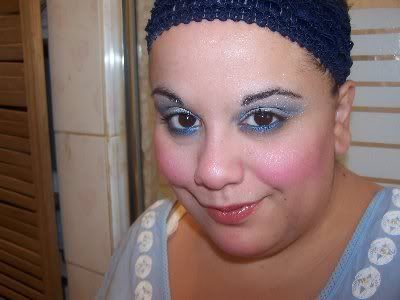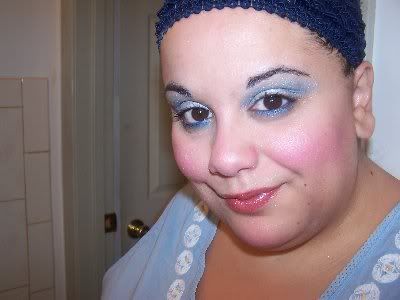 What I Used:
Urban Decay Shadow in Mary Jane
Urban Decay Shadow in Goddess
Vincent Longo Wet Diamond Shadow in Mermaid Blue
T'estimo Layered Impact Eyeshadow in Blue
Kiss Glamorous Volumizing Mascara
MAC Technakohl in Black
I know at least two people had asked me for a Face of the Day with the new T'estimo Grande Impact Eyes and I'll get to it shortly! Was planning on it today but I just felt like blue! Forgive me 😉
Just noticed I have gloss on my chin, sheesh how embarressing LOL! Well at least it's not food or something equally terrible!