July 26, 2007
Aube Shower Eyes
Hello World!
Been a while hasn't it? It's good to be back! Today is a blog of review! After a rather long and lengthy conversation about the new Abercrombie & Fitch (If you're lucky you'll catch the wonderful insight of this on PJ's Blog! PJ had a ton to say about the store and I enjoyed every little morsel of the e-mail) that's opened in London (I'm quite eager to have a nosy around myself and see how they've done with it! Perhaps on my trip over!) I ventured very randomly into a short reply about Aube Shower Eyes! Very weird how my mind works, hops from fashion to make-up in a heartbeat! Well, to make a rather long story short Haru from Rougue Deluxe had recommended that I purchase the Aube Shower Eyes palettes! Now you can't really go wrong when it comes to what Haru recommends, she is the expert and guru! I bow down to her greatness! We can only ever hope to achieve her heights of make-up stardom hehe (she reads this so thought I'd add in how great she is to give her a giggle or two)!

This blog is for PJ whom wrote to me, "I am very interested in knowing more about what you think about Jewelry Shower Eyes. I was on the verge of ordering one of them…." I'm right there with you! I was on the verge as well! I've been eyeballing these for a while and skipping over them each and every time! I've only ever seen the photos on Aube's website and really those aren't appealing in the very least!
Upon Haru's rec I decided what the heck I might as well dive in and grab two! And now I want the rest of the colors! The palette is quite awesome!
The palette in general is an absolute steal! It retails for about 3572yen but you can get it as low as 2072 yen as it discounts at 30%! Really it's as good as giving it away! You can't get this kind of high quality make-up for such a price! Japanese brands make some of the most wonderful, appealing, pigmented, gorgeous, (I'm running out of adjectives here), and affordable make-up around!
I know you want the review! You're getting impatience with my babble!
I ended up purchasing 32 and 33 I wanted EX01 very badly but it was sold out! Utterly crushed here! I did manage to find it online but had to sell another a kidney to get it (at this point I'm running out of organs to sell!!!) Sheesh I hate how people mark-up stuff! Anyway!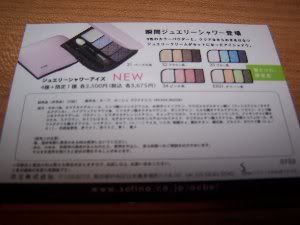 32 is a brown/gold palette, perfect for the fall in my humble opinion, as I wouldn't wear any of it in the summer. 32 is a blue palette and perfect for summer wear and possibly you can get away with in the fall and most definitely the winter!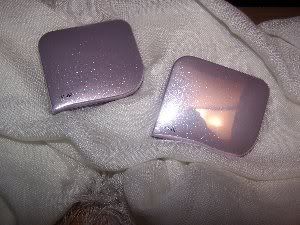 Each palette contains 1 creamy glitter base/shadow, one shimmering shadow, one matte shadow, and a liner (personally I don't use it as a liner but a contour shadow but hey whatever floats your boat and tickles your pickle!
I'm always somewhat confused (Yes even I get confused about make-up application sometimes) why so many Japanese brands always include the creamy base shadow! MJ has a quite a fondness for including a creamy base in their palettes, Shiseido in general actually does! I've failed numerous times in succeeding with the creamy base! I applied it prior my shadow and layered my shadow on top! It came out quite the mess for me! I've finally settled on using the creamy base as a highbrow highlighter and that works perfect really! Upon receiving these shadows I asked Haru's advice about what she does with the creamy shadow and she replied that she uses it in several ways. As a base (tired that and I don't like it), as a highbrow highlighter (already do this and like it but not love) and finally, a most interesting suggestion, she applies it in the middle of the eye after her she's used the other shadows! My word what a great idea! I read something similar on MUA and I haven't yet tried this but I am eager too give it a go! I never considered applying it after my shadow was on! The girl on MUA had suggested patting on the creamy glittery shadow onto your eye after shadow application! Hmmmmmmmm I like this ideal and must attempt it for myself!
I did get off track with all that didn't I? The moral of the story is, my dear friends, the Aube Shower Eyes get my hearty approval! These are something you must consider adding to your collection! I am curious where the "shower" part comes into play and I'm somewhat hopeful it means that the glittery creamy base I was discussing earlier will create a wet shadow look which sounds very dramatic! Please do keep in mind, prior to purchasing these, if you're expecting as much shimmer as you'd get from T'estimo palettes these are not what you seek! They pack shimmer but not the punch that T'estimopalettes pack!
If I recall correctly Haru said new colors are coming out for the fall! Joy! Something more to add to my ever growing want list!