July 26, 2007
Because Shu Uemura Wants Your Lashes to be Pretty!
Behold…….
My New Shu Curler!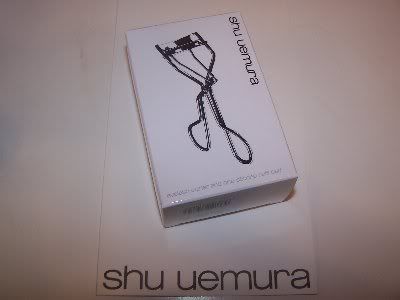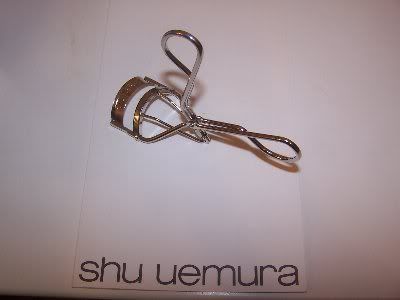 The Mercedes Benz of Eyelash Curlers!
I've read so many reviews about this curler over the course of the last two years that I can write a book about it! I'm blogging to tell you that IT IS all THAT and a bag of chips!
This freaking thing is amazing! I got it in the mail today and I've been happily twirling around with it for the better half of an hour! I may never need to use mascara again (I'm exaggerating and getting caught up in the excitement of course)!
I've used so many curlers that have promised me no pinch, perfect fit and all of them fail! The curler I've been using for the past year or so was purchased at Sephora and…mmmm it's ok. It's nothing to write home about.
I don't know why I never bothered ordering the Shu Uemura one. Customer Service knows me by name by now after the amount of orders I've placed but not ONCE had I thought to add this gorgeous tool into my shopping cart! Best money I've ever spent in my life! Truly!
I can understand what it's prefered by Asian girls. It really has a good straight line and fits the contour of the eye perfect. You can get it super close to your lash line, press down super hard, and no pain, no pinch just perfect full lashes each and everytime!
There is a downfall friends. They only give two replacement pads. Once you go through both pads you have to shell out money for an entirely new curler. Really though one pad should get you through 2 years or so….and on the bright side I hear Shiseido's replacement pads fit into this curler so that's a plus.
It's been a while since I've been so impressed with a tool and this is now on my list of awesome items that I can't do without!
What's that you say? Did I just order the curler? Come on now…you know me…..I couldn't just buy the curler.
I got some lovely blushes and a rogue unlimited because really you can never have too many Shu blushes! As for rogue unlimited I'm surprised I even located a color that I don't already own ! I'm so digustingly diseased it's not even funny anymore, I just can't help myself !
My Entire Order Minus The Blessed Curler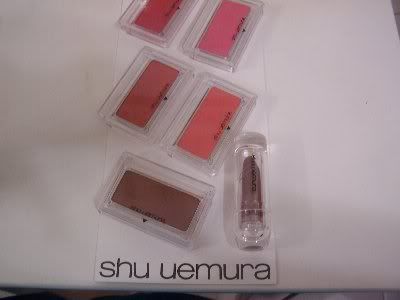 Thank You Mister Shu Uemura I bow down to your greatness once again!