July 26, 2007
Majolica Majorca Madness
Before I lay me down to sleep..I've decided to blog about my other true love (by now you realize who my first one is)….Majolica Majorca.
Majolica Majorca is Shiseido's little sister but don't let the word "little" fool you, she packs a mighty punch in her own right! I've blogged about her briefly before this, you can read about her by clicking HERE.
I fell in love with MJ (asian girls call Majolica Majorica, MJ for short) when I was living in Japan for a short time. She's probably one of favorite brand of cosmetic! I think my interest in her borderlines on the obssessed at times as I have that sweaty, greedy, selfish need to own every little thing thats put out in the line! I've since learned some control over myself and I only buy the items that I know will work for my face! I know I even amaze myself sometimes with the amount of will power I've been practicing as of late!
I've been somehow lucky enough to nab the Majewel palettes that were released in 2005 (don't quote me on that I believe it was 2005). Again, these are some of the most prized pieces in my collection! A lovely friend of mine that blogs as well had mentioned that packaging is a very important factor whenever purchasing cosmetics and I couldn't agree more! I think cosmetics sell themselves by not only what resides in the pot but the actually pot, case, compact it comes in! I'm a visual being. I love cute items! MJ is girlish to the max and maybe it's my ultra girl side that finds the packaging and the actual cosmetic so very appealing!
The cuteness of the Majewel Collection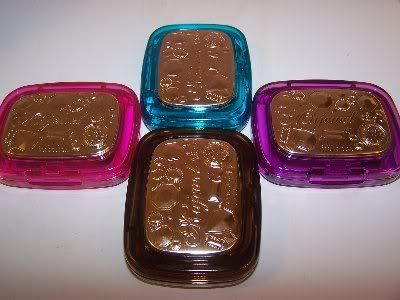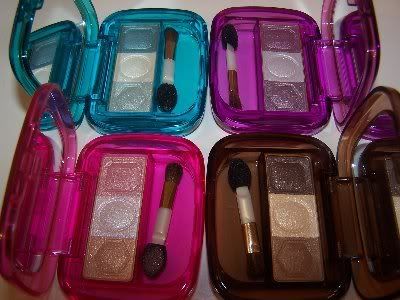 This year MJ put out some amazing palettes and yours truly found it very hard not to purchase every single one they released. And you know what? I went ahead and did just that!!!!!!!!!!!!!!
My little stack of insanity: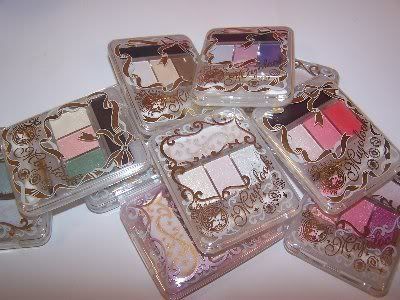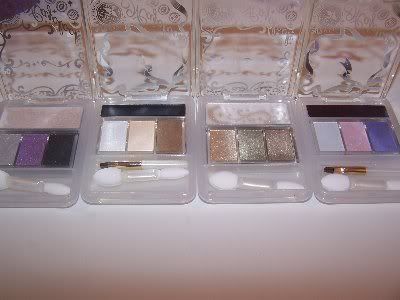 MJ puts quite an interesting shadow out, they are sheer yet pigmented. Even for someone like me who always reaches for bold, bright colors, can appreciate MJ's sheer beauty! These are really perfect layering shadows and you can build up as little or as much intensity as you want. I love the fact that almost all japanese shadow palettes include some sort of liner, really, sometimes, the little things matter most! You're literally getting the all in one package here!
Now I can talk MJ shadows, blushes, liners, etc…until tomorrow morning. But really the star of this show is MJ's amazing 15X mascara! I've tried plenty of fine posh mascara and MJ is by far my favorite. It reminds me of Bare Minerals brushless mascara but is ten times the mascara that Bare Minerals hopes to be when it grows up!
This season they released a most flattering blue color you ever did lay your eyes on! STOP! Don't even think it! It is not the "Oh my god blue mascara from the 80's"! It's just a brilliant deep ocean blue color that is divine with blue shadows! Blue mascara has been making it's come back very slowly and honestly if you're brunette or blonde it's so for you! It makes your eyes brighter and they POP when you wear it!
MJ Mascaras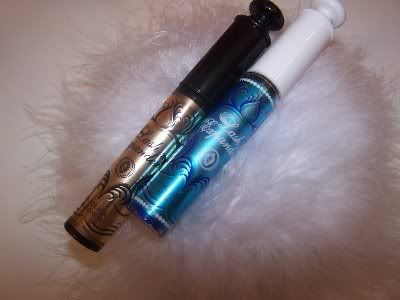 MJ Splashing Blue Mascara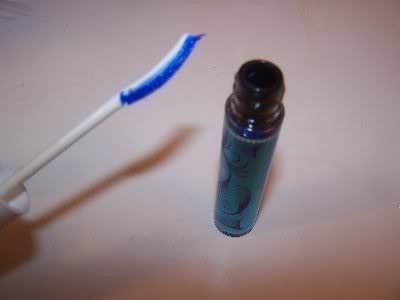 MJ Black Mascara

MJ is not available stateside or within Europe. You can purchase a majority of the MJ line from JPMon,E-bay, and a few other places. It's not difficult to locate and with a little quick typing and some google you'll be right on track to locating it! Most of my product comes from my a dear friend that lives in Japan and ships them over to me! If you head on over to Make-Up Alley chances are you'll find someone nice enough to do a purchase for you or as I said google!
One important thing to remember about MJ and other wonderful Asian brands is that they are truly limited in quanity. All the palettes released are almost always limited edition! Really the concept of Limited Edition starts to mean nothing as of late in the US. The market is oversaturated with the promise of Limited Edition cosmetics but really it's just not the case. I can remember a time when MAC color stories would sell out quickly and it was difficult to locate a particular color for years after. No longer. Really anything that becomes stamped with the coveted Limited Edition seal ends up being easy enough to locate on E-bay!
Asian brands are truly defined as Limited Edition. Once they are gone, they are truly gone. It's very difficult to locate palettes once they are sold out! I guess really the moral of the story is when you see it and you really want it, buy it, or else tomorrow it'll be gone..for good..really…truly…no joke!
I hope you enjoyed learning/reading/listening to me babble about MJ! She's truly a special brand of cosmetic that's near and dear to my heart!