July 28, 2007
A Twisted Discussion
I previously discussed MAC's new color story, Novel Twist in a prior blog! The pictures I had posted in that blog aren't nearly as good as the ones that have popped up on Nordie's website yesterday! I'll be sharing those with you shortly!
I got invited to preorder Novel Twist on July 12 basically this means I'm special as hell and you aren't (No I'm not but it sounded great typing it)!
Novel Twist is officially released on July 20th but since I'm special, see above for details, I get to order it and pick it up on July 12! Wahoo!
The color story is quite huge and I want everything but I narrowed it down and decided I'd just buy…..everything….! I hear screaming…..from my purse…….oh it's just my credit card! Have no FEAR! I've accumulated some Nordies Notes over the last few months which will cover some of my purchases 😉
Geez, where was I before being so rudely interupted? Oh yes. I'm decided that I shouldn't buy everything. I should limit myself to buying most of the color collection…just some…alot of it…but not all of it…most of it….a majority of it…..
If this wasn't enough of a problem, Nordstrom though it was a damn brilliant idea to preview two more color stories during this promote of Novel Twist. This means that I'll be holding a can on the street corner next month with the words "Will Work For Make-Up" across it! Sigh! I hate you MAC!
I'm not entirely sure if they'll let us buy from any of the two new color stories they are previewing. I do know they'll let us touch these, smell them, feel them, paw at them, caress them, possibly make love to them, drool on them, and weep! I'm going to try to do all of the above with as much class and glam as I can but please don't hate me too much if I end up looking like a zombie with drool dripping from my mouth when presented with a ton of pigments and mineralized eyeshadows! Truly you'd feel the same!
Hopefully Nordies puts all of us out of our agony and doesn't make us wait till July 19th to purchase these!
So…a recap about this preview!
We will indeed have Novel Twist at this launch! You've read about it previously and seen the photos in my blog and now for the close ups!
Without further delay I present to you Novel Twist, A Nordstrom Exclusive MAC Color Collection (Limited Edition for the junkies like me!):
Cool Pearlizer Plus Brush (Two Colors Available! I'll have both please! Thanks so much!)



Warm Pearlizer Plus Brush

Plum Lip Palette (Skipping all the lip palettes! They are too messy to work with! Not for me!)

Pink Lip Palette

Coral Lip Palette

Tan Lip Palette

Cool Eye Palette (Want Both Eye Palettes! I love MAC Eye Palettes!)

Warm Eye Palette

Basic Brush Set (I know everyone bitches that the kit brushes aren't nearly as good as the regular size brushes but I personally think they are awesome! These are fantastic for travel! I want both of the brush sets!)

Pro Brush Set (Worth the price just for the skunk brush it comes with!)

Beauty Powder (Two Shades Available Both for me please!)

Powder Blush (Two Shades Available. The color Whim reminds me of the blush that was released with the Barbie Color Collection hmm…Still want 'em both teehee!)

Tinited Lipglass (4 Colors Available Have to see these and decide which I'd like!)

Well that's Novel Twist girls!
Now in regards to the preview of the other two color stories! That would be Rushmetal and Flashtronic. Both of which are being release on the same date which would be July 19th! Now if Nordies puts us out our misery and agony we will be able to tote all three stories home at the same time! If not, we'll have to settle for playing with two while we are there and come back on the 19th to purchase them!
A sneak peak at these color stories: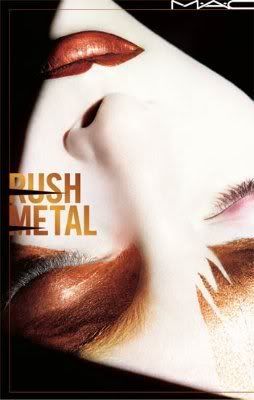 Lipsticks
* Thrills Rosy copper with gold pearl (frost)
* Frenzy Soft muted pinky-peach beige with gold shimmer (frost)
* Soft Lust Tan with white pearl (lustre)
* Fast Lane Mauve with silver pearl (lustre)
Pigments
* Rushmetal Rich Copper Sparkle
* Revved-up Icy rose with reflects
* Gold Mode Tan gold
* Mauvement Cool taupe with gold pearl
* Off The Radar Warm orange with gold sparkle
* Copperized Olive green with gold pearl
* Quick Frost Creamy white with soft green pearl
* Cocomotion Dirty gold with olive undertone and gold sparkle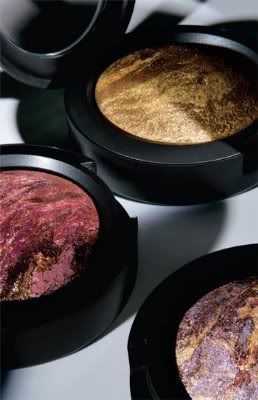 Lipglass
* Perfectly Pink Creamy mid-tone pink (cream)
* Flashtronic Caramel bronze with subtle gold pearl (cream)
* Young Spark Neutral pink with subtle gold pearl (cream)
* Electro-Lush Creamy blue pink (cream)
Mineralize Eye Shadows
* By Jupiter Light Taupe with beige and deep brown veining (frost)
* Tectronic Yellow gold with lime green, warm brown and black veining (frost)
* Ether Deep aqua with silver, gold and black veining (frost)
* Mercurial Yellow gold with lilac and chestnut veining (frost)
* Lovestone Raspberry with wine and copper veining (frost)
* Quarry Sky blue with olive, coral and beige veining (frost)
Mineralize Skinfinishs
* Northern Light Midtone pink with rust and grey brown veining
* Gold Spill Pink peach with warm brown and cream pearl
* Global Glow Mid-tone brown with gold pearl