March 10, 2008
Benefit The Fast and the Flawless Kit
Benefit's released a Sephora exclusive kit that includes it's popular oil free foundation Some Kind of Gorgeous along with some other interesting bits and pieces.
The kit also includes Eye Bright, Get Bent Lash Mascara, Benetint, a Mousepad, a carrying case.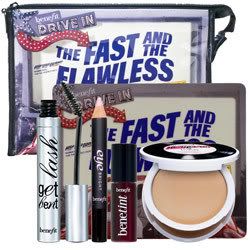 The kit is $48 USD and available from Sephora now.
I'm personally not partaking of this particular kit but for you Benefit lovers this might be something you want to snatch up!
I've always been curious about Some Kind of Gorgeous but each time I test it on the back of my hand in the store it just feels so wrong and the color is so beige and unflattering!!
Love this?
Want it?
Tell the Muse!