July 26, 2007
Stop the Bobbi Brown Train I Wanna Get Off!
After many years of avoiding the Bobbi Brown counter I decided to dive in and make a little bitty purchase during my trip to purchase the Strange Hybrid Collection from MAC.
I was feeling spontaneous so Bobbi Brown here I come!
I've never purchased any prior Bobbi Brown products before this. I'm not even entirely sure why that is. I think it just didn't appeal to me. Normally my taste runs to bolder, bright colors or sweet pastels and light pinks! Bobbi Brown seemed….older….more for someone in their 40's maybe. No offense at all to older women!
When I strutted my way up to the counter I already had in mind exactly what I wanted as I had had gotten a Nordie e-mail alerting me to it's arrival (Ok Ok Ok so maybe it wasn't as spontaneous as I originally mentioned! Gimme a Break!)!

Avast Ye and Behold!

The Sand and Surf Palette!
Mind you this was appealing because those special, magic words appeared after it. You remember what the special words are don't you? If not, allow me, to remind you! Limited Edition!
Now prior to actually going to Nordies I wandered aimlessly around the website viewing Bobbi Brown products and the only thing that caught my eye from the line was the Sand and Surf palette and the shimmer bricks! I knew I MUST have some shimmer bricks! After all they were 1. Pretty 2. Well reviewed by girls everywhere far and wide!
The magic words (Limited Edition) popped out at me during my surf around the Nordie's website and I came across another item that I MUST have!

Now that I had my shopping list I was ever prepared to buy buy buy buy buy and be enabled to the wonders of Bobbi Brown make-up!
$100 or more odd dollars later I happily left with two shimmer bricks (one gold, one rose) and the sand and surf palette! I rushed home with my treasures but never did get a chance to wear any of 'em as other items took president during my morning face routine!
This morning I felt for sure it was a good day to BREAK out the Sand and the Surf palette! And hell I should go ahead and give the Rose Shimmer Brick a try too! Truly this would be a great make-up day!!!!!!!!!!!
And today's face of the day consists of this: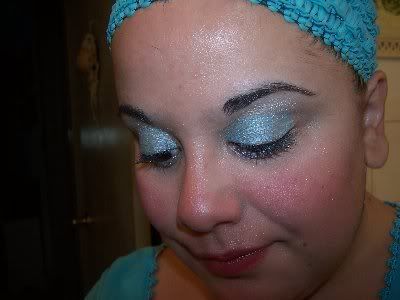 I dunno. I'm so disappointed. My eyes didn't pop! My cheeks were blah! It wasn't what I expected at all!
The colors in the eye palette are highly difficult to work with. Blending is impossible even with your best brushes. I used a total of three colors but it looks like I used one color. The palette has a baked feel too which could account for the difficult time with blending!
The shimmer brick was just blah for me. It gave me no color which It's not really what it is supposed to do anyway but I applied it over my normal blush and used it to contour…but..again..just blah….I expect some sort of shimmer!
Overall I'm not impressed at all. Really disappointed. I haven't yet tried the gold shimmer brick and I have hopes it'll be the one great purchase out of the three items I got! I won't be doing another Bobbi Brown purchase in the future
Sorry girls! That's my story and I'm sticking to it!
Questions, Comments, Suggestions are always welcome! My ears are open!