July 26, 2007
An Introduction to Japanese Brands Part Deux
One good turn deserves another or so some wise man told me…hmm maybe it was a wise woman! Either way to add to my Asian inspired blog of yesterday I decided to bring to you today a higher end brand of product!
Jill Stuart!
My oh my it just rolls off the tongue doesn't it? Now Jill Stuart is quite well known for gorgeous couture! However, sadly, this girl is unable to squeeze my wobbly bits into anything Jill Stuart designs! Like all good couture, Jill Stuart's entire line is not meant for short, round, and average. It ranges towards slim, leggy, and gorgeous! I can lovingly admire from afar but the general idea of actually purchasing anything from the line is but a dream! I imagine when they design these things they aren't picturing small and round and really who can blame them?
Just for the fun of it let's have a little lookee at what the line looks like shall we? I promise to get back to cosmetics shortly!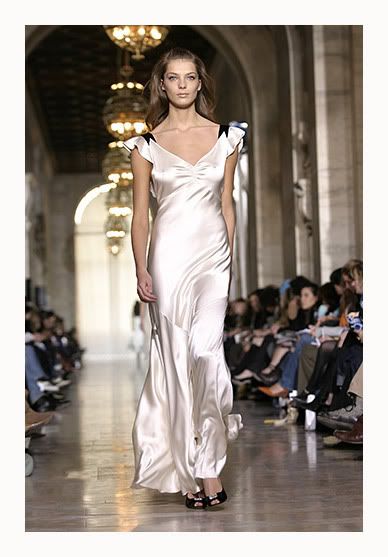 Winter 2006

Winter 2006
Hmmm I wonder if we can find cheap knock offs in bigger sizes?!? Doubt it! A girl can keep hope alive can't she?
Everyone still with me? I know it's hard to keep your train of thought after viewing such astounding pieces but please try to keep from falling off your chair and let's get back to what the original topic of conversation was!
Now, you may or may not be in a similar situation as me and if you are I do indeed have good news for you! Situation being that you too are in the short and round pond!
The good news is that Jill Stuart has put out an entire line of drop dead amazing beauty items! These are probably some of the most amazing products in my collection! And I don't have to be a size zero to indulge!!!!! HOORAY!
Jill Stuart is a virgin to the beauty world but this doesn't mean that they have failed in putting out such a line of product that your eyes will roll back into your head and you may feel the effects of orgasmic delight when you see some of the amazing items they have in store for the avid beauty fan!
Jill Stuart is in no way a mainstream line of make-up! Prices range along the lines of Chanel, Dior, and Givenchy. And how very dare I say it but these exceptional pieces steal much of my love away from some of my very favorite posh brand of beauty products!
This spring was a landmark for the company as they introduced 4 new eyeshadow palettes and much to the delight of myself and fans everywhere a 5th for the summer collection (I have mine currently on order! It will ship June 1! Squeal with me would you?)!
The palettes are the type of item that take center stage on your vanity! The packaging is like nothing you can find on our shores!
I guess I should stop babbling and bring you on to the climax of the actual product!
Without further words from me, I'll go ahead and let the products speak for themselves!
From my collection to your eyes, I bring you the masterpieces of Jill Stuart Beauty! (I did my best to keep as much light and flash on the product as possible when I took the pictures so you wouldn't miss one tiny bit of detail!)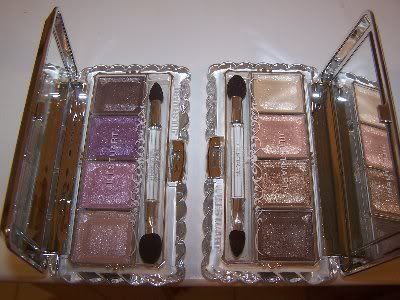 Spring 2007 Blush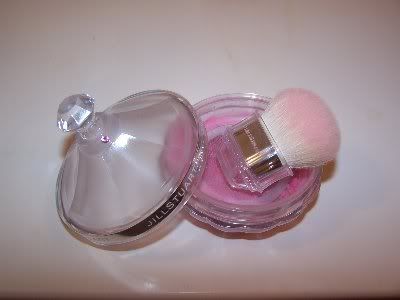 Sparkle Powder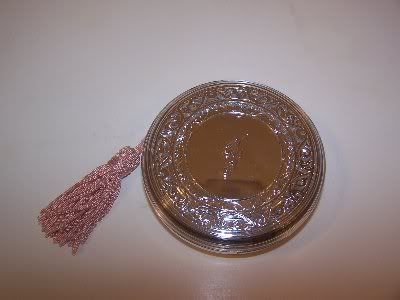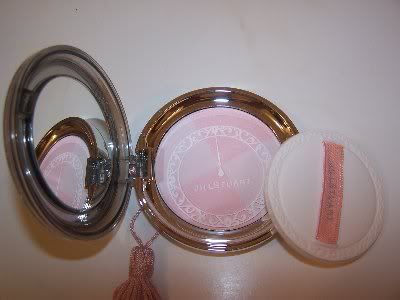 A majority of the color collections are difficult to get and expensive to ship over! But if you are lucky enough to nab these beautiful pieces you won't regret it!
The shadows are highly pigmented, the blushes are smooth and flawless looking, and the powders are pure perfection!
This girl gives them her highest rating of approval!