July 25, 2007
Introduction to Japanese Brands
Today I thought I'd post a previous entry from my myspace blog! This is worth a repost as you'll hear me talking about many different Japanese brands and this is somewhat of an introduction to Asian cosmetics, particularly Japanese ones!
I hope you enjoy this repeat of an old blog!
I have come to the conclusion that it is my job to enable the female population to the joys of undiscovered make-up brands!
Yes, indeed, you read that correctly!
If you know me, you know that my obssession with make-up runs to the extreme! I am an avid collector of MAC, Urban Decay, and other bits and bobs that run towards the insane!
Now my obssession has progressed over the years and I found that I could not be happy with american brands alone! I had to branch off into uncharted waters! Discover new and exciting items that have yet to be discovered by the american female population! I needed to bring these items back and introduce them to my fellow sick, twisted, and addicted female friends!
In my many travels I had discovered plenty of interesting bits and bobs but none impressed me as much as the ones I discovered while living in Japan! I was introduced to an entire array of wonderful items that were unavailable in the states! Oh joy! Nirvana!
The japanese mainstream cosmetic is an ambrosia! It's rich and varied! It can only be enjoyed by savoring it! Awe is the only noun that comes to mind when I think of the variety that awaits the eager female in Japan!
If you're familiar with make-up and you're as much a snob as I am you already realize that anything you'd purchase in a common drugstore would be an awful experience to say the least. Many american mainstream brands such as Covergirl, Maybelline, Etc….suck. Oh my I guess that's one way of putting it isn't it? Sucks? They do. I'm sorry but it's been quite a many a year since this girl has purchased any drugstore make-up brands! My tastes run to what I can buy at Nordstrom, Sephora, or Neiman Marcus! NOT CVS, Walgreens, or Walmart!
Now my point in discussing mainstream make-up would be because when I lived in Tokyo the defination of drug store make-up takes on a new meaning! Many of Japanese mainstream make-up brands look like something you'd have purchased in a posh, upscale shop!
Get your google ready girls and let me show you an entire new way of looking at make-up!
Kanebo is one of the major cosmetics companies that distrbutes in Asia (Kanebo doesn't only distrubte make-up but that's another story for another day!). Under Kanebo's main name they offer several make-up brands. Some of my favorites are T'estimo and Lavshuca.
T'estimo does a line of wonderful eye palettes that are unique to my collection of insanity!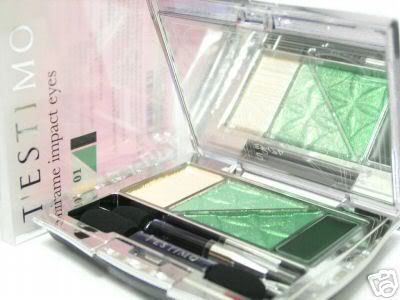 Lavshuca is very new to the Kanebo line and also, like T'estimo, does a lovely range of shadows and other bits and bobs!
Now one of my biggest obssessions falls from the graceful hands of Shiseido! Shiseido created it's little sister a few years ago and entitled her Majolica Majorca or to her fans MJ. She's pretty and sweet and utterly lovely! She's also quite inexpensive for such a gorgeous line of products!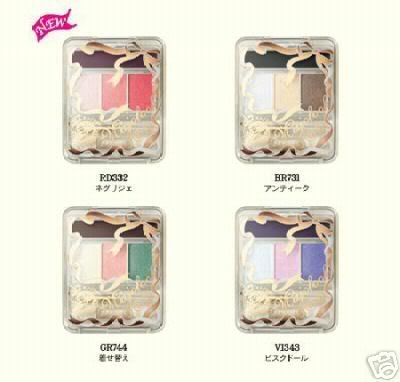 Now you may be curious about the status of these wonderful products so I will go right ahead and tell you, much to every girls delight, all these items are almost always limited edition! Ahhh how my heart sings to say it! Limited Edition! Limited Edition! Limited Edition! Don't we, as the female race, love those two little words? Doesn't it make us want to whip our credit cards out and go on a buying spree!? After all these are limited edition, we may, very well, NEVER see these items again in this lifetime! My god the horror of it all! Ok, so I'm being overdramatic and completely materialistic…sue me!
The point of my rather large tale is to tell you think outside the box and begin to discover an entire new world of cosmetics! Bring up E-bay, Head over to Make-up Alley, or start googling! Imagine all the lovely new bits you could discover!
And if you ever have any questions your resident addict is here to help anyway I can!