July 26, 2007
MAC Paint Pots Review with FOTD
Little bit of a review on MAC's new Paint Pots plus an FOTD! Yay!
Sooooooooooooooooooooo I ended up purchasing one of the Paint Pots yesterday! This is just an early release from Nordies basically! The rest of the colors will be popping up sometime in August from MAC!
I only got one as a I said and that color was Delft which is an ocean green teal color!
Not a big fan of cream shadows but I was curious so I went ahead and grabbed one!
Mmmm…..I imagine people will love these…I don't.
The texture is a bit hard and I just couldn't work well with it. For one thing I really had to pull at my eye area to apply it which isn't such a great idea when your 30th Birthday is in a few short months!
I applied a rather medium size amount to my finger for application and it went on somewhat sheer. I guess you seriously have to work your finger in and layer it on thick to acheive the desired look!
I do give it props for adhering pigment well! I applied Teal pigment on top of it and it really stuck to the paint like glue which is slightly impressive and may make me consider purchasing one or two more for that reason alone!
Overall I guess they are alright. They aren't great or even good in my book but I'm sure some people will adore these as they have been eagerly anticipated a long time coming!
The good news is I used Quick Frost on my highbrow and it deserves a back-up! It's a fantastic pigment! It's much like Frost with Gold Shimmer to it plus it's not nearly as grainy! Easy, 1-2-3, application with it!
Face of the Day for your viewing pleasure! Kinda looks like a similiar look I've done before but I guess I was a bit rushed this morning and didn't take much time to do it and thus it came out rubbish!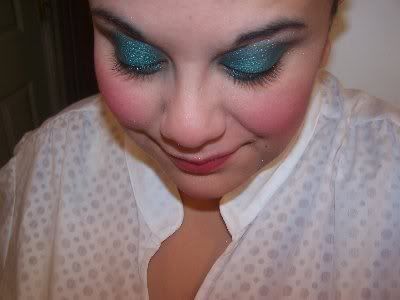 What I Used:
MAC Pigment in Teal
MAC Pigment in Deep Blue Green
MAC Paint Pot in Delft
MJ Mascara
MAC Technakohl in Black
MAC Pigment in Quickfrost
Bnever Loose White Shimmering Powder