July 28, 2007
Please Leave a Message after the Beep!
'ello 'ello friends!
Sleep is at the pub(I made that up! We don't have pubs in New York! Pssstttt… Jonny doesn't believe it but I'm trying to convince him! Help a girl out! Tell him yanks don't do the pub scene!). Sleep is……..at the drug store picking up some beer for me, oh my I made that up too as I don't drink! Wait wait a good excuse will come to me soon!
Pause for effect…………………………………….
Sleep is playing strip poker with Tammie and her juicy nipples! Wow…those of you who have no idea who Tammie is or her juicy nipples may have stumbled onto more than you bargained for! Eep ….I'm bracing myself for the family and friend phone calls tomorrow morning! Oh my how very unladylike of me to say juicy and nipples in the same sentence! And to think this originally started out in my feeble mind as being a blog about cosmetics! Oh brother!
I swear blogging is alot like talking to yourself. It's all rather calming! I imagine as long as I don't answer myself back I should be safe from the and the little men in white suits and all that stuff!
Oh..I am babbling aren't I?
What was this about again……..
OH yes! I remember now!
Face of the Day Picture!
Without further delay I bring to you a new look: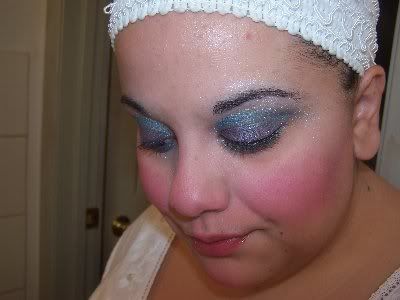 What I Used:
Bare Minerals Glimmer in 2000 on Highbrow
Bare Minerals Glimmer in Bloom on Lid
Bare Minerals Glimmer in Azure in Crease
My Trusty MJ Mascara
Super simple one! It came out crap because I rushed it and just wasn't into doing it! I normally put most of my heart into creating the looks but today I was just feeling tired! It came out alright for something rushed and done in a sloppy manner though!
Suggestions, Comments, Questions? My little ears are perked and at the ready!
I got around to using my #227 brush! Which is a freaking gem! I have to thank Leesha for that rec! She's always saying how great the brush is in her you tube tutorials that I caved and purchased it! Holy cow! Great brush! I normally use the #224 or the #217but I think the #227 can possibly take over both of those brushes in my beauty arsenal! It's really quite a little multitasker! Strongly suggest you grab one for yourself!
Most expensive brush in my collection. Why you ask? Because I freaking had to buy it twice!!!!!!!!
Funny story about the brush….I popped over to Macy's to buy it after I left work the other day. So I've been sorta shit this week and I was just doing a quick run for the brush! I got there and my lovely boy Deanie (I guess gay men can get away with names like Deanie don't ask me I dunno! I love him so lay off!) got me the brush! So I shell out my money…$32 bucks and change! Good price for a killer brush like this! I leave the store and I'm walking down 42nd Street and passing along Herald Square and I notice the bag feels freaking light. I dropped the bloody brush. Gone. Finished! Disappeared! I retraced my steps all the way back to the bloody MAC counter and didn't find it! Some lucky girl is blending her heart out with my brush! I hope whoever found it is enjoying it! Anyway, to make a really long story short I ended up buying a new one! So this is probably the most expensive freaking brush in my collection! I've spent $55 on a brush, I've spent $30, I've spent $25, but never freaking $65 plus dollars! Oh lord! Someone shoot me in the forehead and put me out of my misery!
Anyway I'm babbling….I believe sleep hasn't come home yet…damn Tammie and her nipples…..
I shall watch my telly until it decides to drag it's sorry arse home! I'm putting my foot down this time! When it comes home I am not letting it out of my site for a good long while!