July 26, 2007
T'estimo Fall 2007 Lineup
I'm supposed to be working but I couldn't resist hopping on to blog about the new T'estimo Grande Shine Eyes Eyeshadow palettes.
These palettes are for the Fall 2007 lineup and as just as gorgeous as the T'estimo Frame Impact Eyeshadow Palettes that were released for Spring/Summer collection!
I'm happy to report that T'estimo updated its webpage to reflect the new palettes as well! So you might want to hop over there after reading my little review here to check them out!
The Spring lineup remains near and dear to my heart but the Fall lineup is just as gorgeous as it's predecessor.
The palettes are in the similiar style of the Spring release which are a mirrored compact containing one liner, one base, and two shimmering shades of eyeshadow. The palettes are exact in appearance and some people may even say some of the colors are somewhat similiar but they are quite distinctively different in my opinion!
I always find these palettes very versatile because I end up using the shimmering base for alot of my different looks and the shadows I am constantly using as a base for my deeper shades of MAC colors (either over or under my looks)! And of course on their own they work wonderful for a complete eye look!
Spring's release were shimmering shades of greens, blues, purples, and browns. Fall's release brings us more browns, gorgeous pale pinks, shimmering whites, and grays. Personally you can get away with these palettes for any of your looks right now! I've already dove right into using the pink!
T'estimo never really fails to put out something that appeals to every girly girl and this time is none the different. I originally seen these on E-bay and wasn't so impressed with the colors. I know someone is bound to think the same thing I did when I saw them which was that the Grande Shine 04 Brown Variation appeared almost identical to the Frame Impact 04 Beige colors. I ended up purchasing one palette at first and later I ended up with the other three because I just couldn't resist. It's that overwhelming feeling of "have to collect them all" that the makeup crazed get!
I am actually glad in the long run I ended up with all four because they are all very unique and different pieces compared to the Frame Impact Eyes. Now to be fair I also felt like the 02 Blue from the Frame Impact palettes was also quite similiar to the blue in the Grande Impact set which gave me another excuse to only stick with purchasing one palette. But again, willpower go to hell, I ended up purchasing the gray palette and I'm pleased I did because it's quite different.
Here you can see beige and brown being introduced to each other!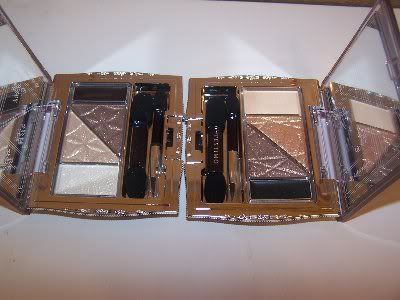 As you can see the brown from the Frame Impact palette (on the left hand side) is quite similiar to the Grande Shine palette. However once you put it on they are noticably different colors! The Frame Impact eyes comes with a gold shimmer color while the Grande Shine palette comes with a gorgeous cooper shade.
Blue and Gray Meet!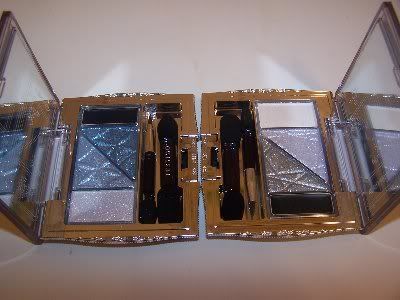 The blue in the Frame Impact palette is far more bolder and brighter than the soft, pale blue that the Grande Shine eyes gives to us! I'm quite happy I got this palette because the colors are just wonderful for the winter! It's bound to give me a really shimmering icy eye look for the colder months!
T'estimo's Grande Shine Eyes Palettes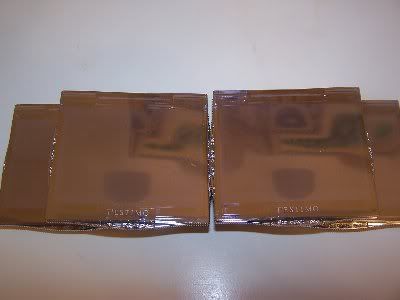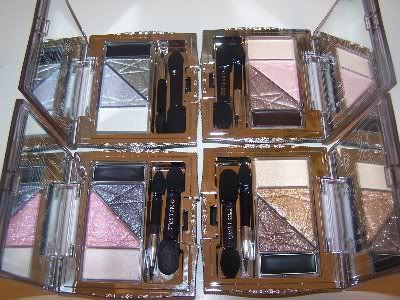 01 – Pink Variation

02 – Gray Variation

03 – Brown Variation



04 – Rose Variation

Grande Shine Meets Frame Impact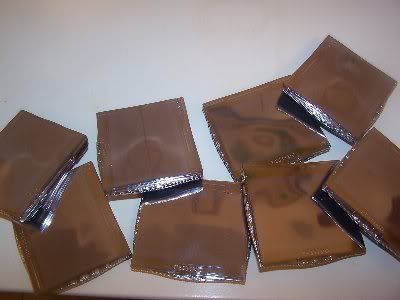 Showing Off!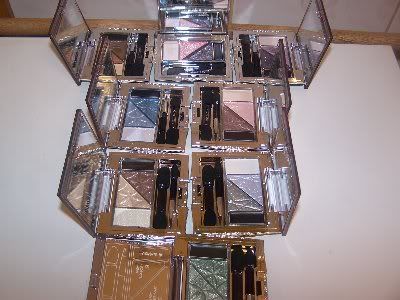 Overall I'm very pleased with the new palettes! These are definitely something you want to add to your collection, you won't be disappointed!