August 16, 2007
Cosmetic Storage Solutions!
For some odd reason or another my cosmetics storage blog never made the move over from mySpace to blogger!
It's gone and gotten lost! Oh my!
A few people have been asking after it on youTube so here it is!

————————————————————–
Hey guys!
Before I go to bed I wanted to post some quickie pics!
MANY MANY MANY of you asked about my storage cabinets and such after viewing my video blog and I wanted to do a few pics and some info about them!
Someone had asked if they were custom made, others messaged me asking where I got my draws, etc….!
So this is basically a blog answering everyone's questions 🙂
Again, thanks so much for viewing this! I really just do it for my own entertainment and I'm utterly flattered when people actualy read what I type here!
Many of you also asked me what I do with cosmetics I'm currently not using! The videos I did are items I use mostly everyday! Anything I don't use I store in rubbermaid bins in my closet! I have three, 4 draw bins in my closet that contain older palettes and make-up bits I've collected over my entire lifetime!
Sadly, some of these storage units will be unavailable to you in Singapore, Japan, Europe, Etc…but the good news is that some of the smaller stackable trays, containers, etc…are available on E-bay and I'm sure you can nab a deal or two!
Ok…So this little display unit is pretty funny! It's actually a desk organizer! I converted it to a make-up organizer on my own! Basically you can store files, pens, papers, etc…in it! But I found a better use displaying my cosmetics on it! I purchased it off E-bay! If you search for shabby chic desk organizers or just desk organizers a few will pop up!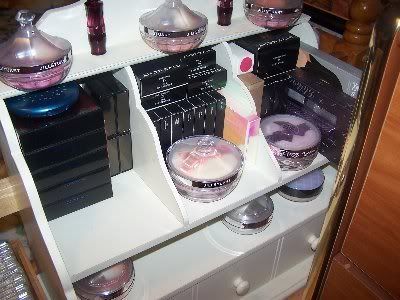 Stackable Trays! These are great for palettes, shadows, blushes, etc! I purchased these from the Container Store but they can be found just about anywhere! Helpful hint to locating them is look in the kitchen storage area! These should be laying around as they are normally used for organizing flatware! You can find these in virtually any home good store! They come in long sizes, smaller, and medium! The price here in the US ranges from $5.99 to $9.99 USD

A Happy Smaller Tray with Some MJ in it!
A Larger Tray with it's tummy filled with Too Faced, Jill Stuart, MAC, and some Stila!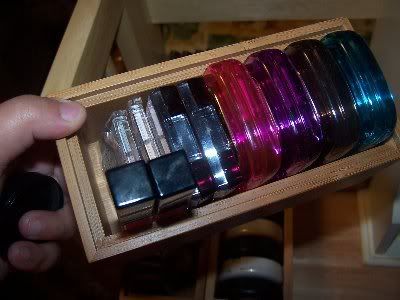 Here we are again with a desk organizer! I got this little guy off E-bay as well! Just go and type "desktop organizer" and you'll have a ton of happy little organizers you can convert to make-up storage organizers! Yay! This one I particular love because it has two shelves and three little draws!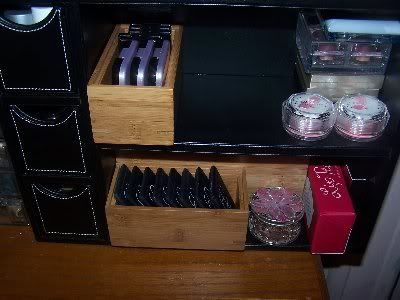 In this picture you can kinda see some of the little stackable containers I have! Caboodles makes these! They are sold in lots of three I THINK or maybe lots of two! They run about $9.99-$12.99 per lot! These are extra nice because they stack really neatly! I got these from Walgreens so when you guys do your next Walgreens "Spree" you can pick some up maybe!

See how neatly they stack! 🙂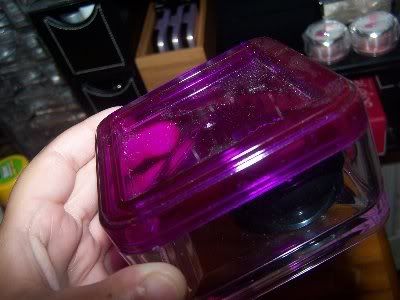 This cabinet was purchased from the Lori Greiner Collection on QVC! I've seen these on E-bay so if you are serious about wanting to purchase one you can easily find it on E-bay! They aren't cheap sadly! I purchased mine for $99 I THINK! But they are much higher on E-bay! Personally I believe they are worth the price! This basically swings open to reveal three trays on either side for make-up storage.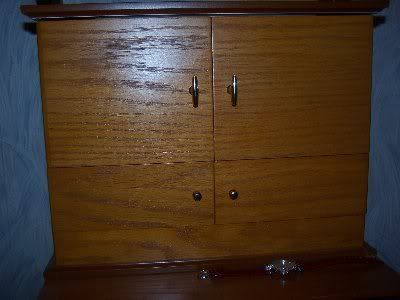 Opened!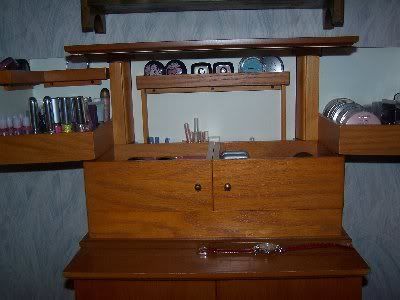 Totally Opened!

Here's some pics I grabbed from the QVC website for the storage unit! It's available in three finishes which are oak, white, and chestnut!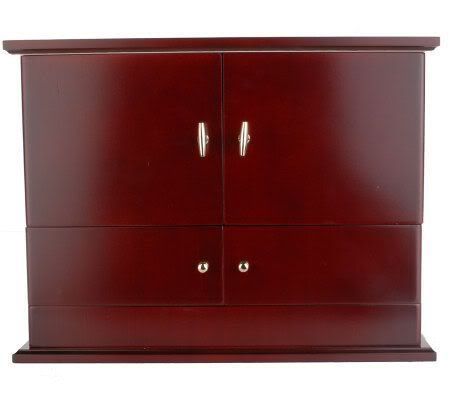 This is irrevelant to cosmetics but I'd really just like to say that her storage units are amazing! I have many of the make-up organizers shes put out (which I'll be showing you shortly) and I also have her jewelry armoire which I'm going to show right now! I couldn't resist taking a pic of it because truly it's such an amazing unit for storing your jewelry and such in! Her website can be located here, Lori Greiner, if anyone is interested!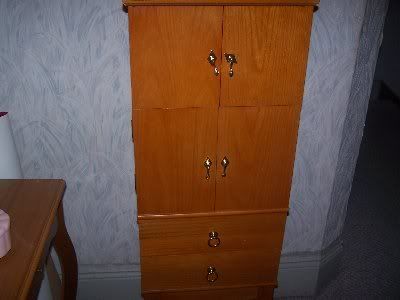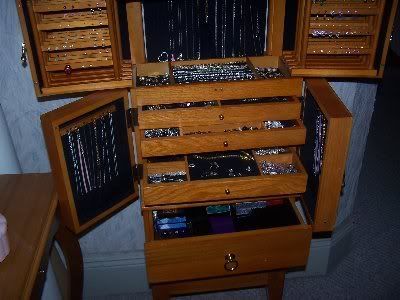 Back to cosmetics storage hehe…
This next one is a spinning mirror vanity which is Lori Greiner as well purchased from QVC! I can't really recall the price at the moment but again it was well worth it!
Photos I nicked off the QVC site: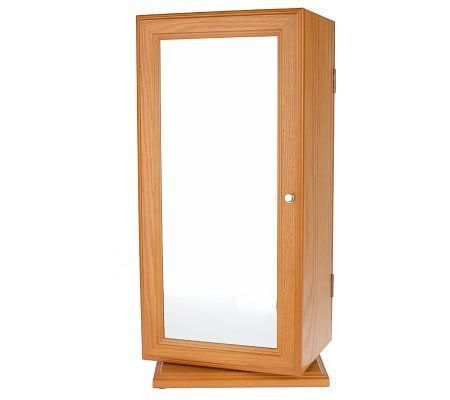 My pics: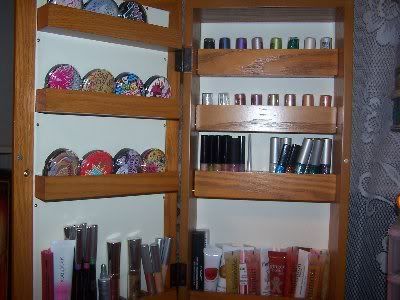 Next up…
These draws were purchased from the Container Store. The right side is an entire unit that is not detachable. It contains 10 small draws housed in one unit! The other larger drawers on the left are stackable units. They are one unit with three draws per a unit. You can store about 35 shadows per a draw so it's really alot of storage! These cost $14.99 Each and the 10 Draw Unit is $39.99.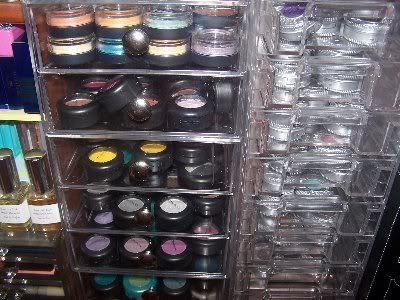 This guy is a mini wooden shelf I got off E-bay! If you search "wooden wall shelf" you'll find alot of similar items that you can convert to cosmetic storage! You can't see it but it's rather deep and the pigments go back three rows!!!!

Top of the shelf!

These two units are also purchased in the container store! Not sure of the price!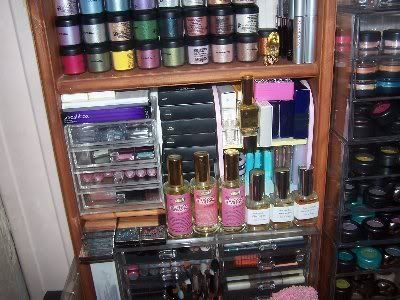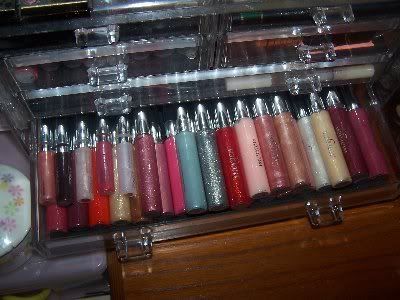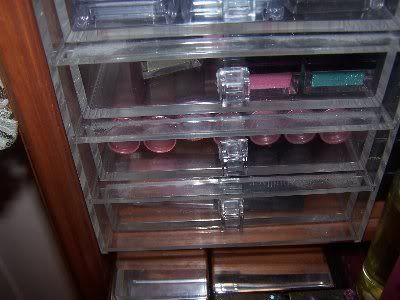 And finally this is one of my favorite organizers! This is by Lori Greiner as well! I have 5 of these total! Some of them reside in my spare bedroom and some are in my bathroom! They are an amazingly great organizer! I believe they are $39.99 on QVC but I've seen them on E-bay for far lower! Have a sneak around and I bet you can nab a deal! I emptied one of them out because I wanted you to see how much room it has inside!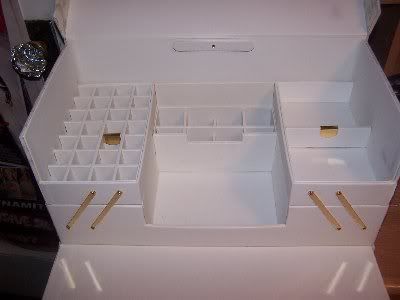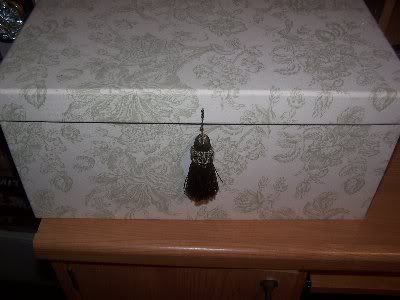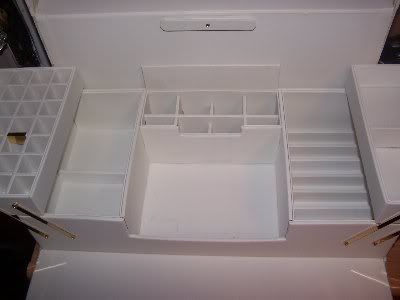 I hope I answered everyone's questions about storage units and such!
For a youTube video of my storage solutions please check out the label MuseTV and it's listed under there 😉