March 11, 2008
Beauty on a Budget: Wave Power Cleaner from Neutrogena Review
I've come to the realization that I don't include nearly enough budget beauty finds in my blog! Many of my readers are quite young and spending $70-$100 or more on skincare is beyond their reach at the moment (at least that was the case for me when I was that age!).
In order to redeem myself I'll occasionally make a mad dash to the local drugstore and see what's to be had, what I try, what I like, and above all in keeping with an inexpensive price tag!
I was able to test out the new Wave Power Cleaner from Neutrogena and this is definately fitting in with Beauty on a Budget. This costs all of $10.49 USD at Drugstore.com or $12 USD at Target. The price, in my opinion, is so right! Plus if you head over to Neutrogena's website you can print out a $2 coupon so that cuts the cost down to $8.49 or $10! Hell that's a deal! Click to get your coupon!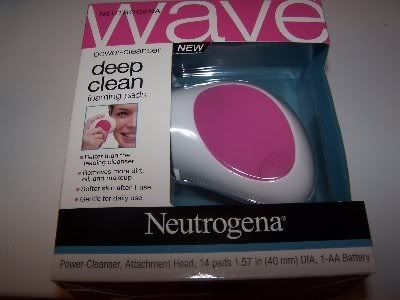 I've wanted to purchase a power cleaner for a while now, in particular I crave the Clarisonic Skincare Brush but seriously I don't see myself dishing out $200 for that thing. As lovely as it looks I can't bring myself to pay that much for a cleaning brush.
I haven't tried the Clarisonic so I can't compare it to the Wave however I will say at the bargain price the Wave works bloody well for it's tiny price tag with a few minor pitfalls!
The entire package comes with the power cleaner, a battery (sweet! I didn't have to go to the store to get one!), 14 cleaning pads, plus a $1 off coupon for refill pads!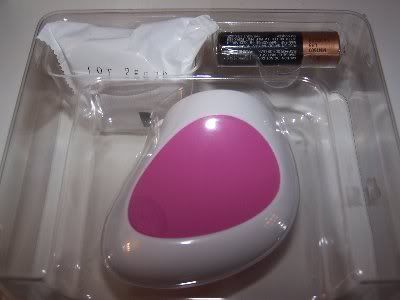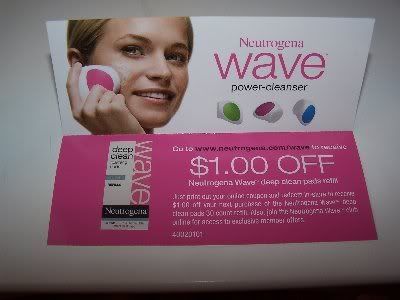 I've used the Wave three times so far. Once in the shower and once out of the shower. My first run with this was out of the shower and it was a bit of a disappointing run. First of all this isn't brain surgery to operate. The cleaner has a ridged surface that you plop on the pads on. No special tools needed to hold it in place, no snap ons, or anything like that. Just slap a pad on and go.
Once your pad is on you run the unit under water, press the on button, and start working in on your face. This doesn't rotate, there aren't any brushes that rotate, the pad doesn't rotate, none of that. The Wave simply vibrates which causes the pad to foam up and begins the deep cleaning of your face. Sadly that was my main beef with the unit. The pads didn't foam up at all. For someone who wears a face full of makeup daily this is NOT going to remove your makeup so well. Absolutely not. However, after using it and rinsing with my regular cleanser my moisturizer did sink in very nicely so obviously the unit is working well enough!
That's a minor rant as I found a few better ways to use the Wave. One was in the shower which I believe will be my main place to use it. I think if you have a clean face already and you've just woken up in the AM and you're stepping into the shower this is perfect for doing a nice deep clean. The foaming won't matter so much as your face is pretty much makeup less. I found that the unit worked wonderfully in the shower and it's completely waterproof so no probs at all. I decided to get crazy and plop a bit of Philosophy's Microdelivery Wash on the pad and that's when I experienced nirvana! This made a huge difference and worked wonders for getting a nice deep exfoliating facial while in the shower! I came out of the shower refreshed and my moisturizer and makeup went on so much smoother!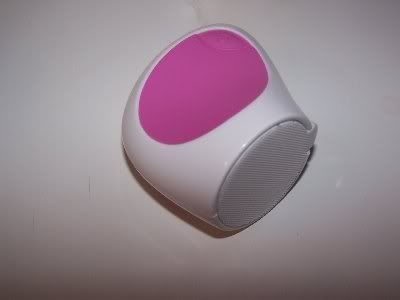 Cheers for that!
The formula of the pads is a tingly, cool pleasant sensation and the smell is quite nice as well but as I said I seen little foaming from these so that does need a bit of work!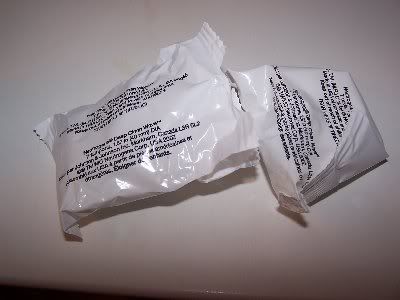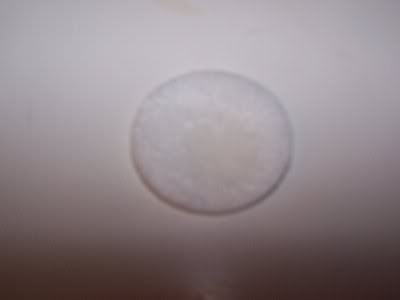 The unit is very tiny which I found fantastic for travel plus it runs on one double AA battery which means I'm not having to tug around a recharger with me when I travel. The entire thing is smaller then the palm of my hand. Really great for storage, travel, and it's just nice to have a small unit that works well!
You might be curious about the refills and the price. It's safe to say they are pretty inexpensive at $8 for 30! You know you'll be able to score these on sell though and maybe even cheaper in Walmart!
I had a totally smashing experience with this little gadget and it's definately part of my skincare regime from now on!
You can't really beat the price plus it works great! If you don't take my word for it check on MUA for the rave reviews! The unit is up to a 4.1 rating!
To learn more about the Wave Powder Clean have a click over here and check it out at Neutrogena's website!
Did I mention you can choose your favorite color? The Wave is available in blue, pink, and green!