March 11, 2008
Boots No7 Cleanse & Care Eye Make-Up Remover Review
Here's one for the trash kids!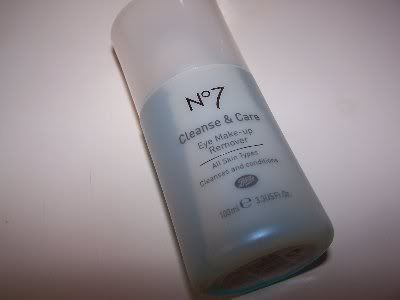 I was in Target a few days ago because my sister enjoys dragging me around that bloody store like nobody's business!
As she oohhhh'ed and ahhhhhh'ed over her finds I wandered over to the Boots section to have a peek. I generally like Boots line of products and I haven't really purchased anything that I didn't love however the eye makeover remover gets my big old "don't buy" stamp.
I normally get Sephora's remover for $8 or when I'm feeling lucky I look through E-bay to score some cheap Bi-Facil (you seriously don't think I'd spend $26 on that stuff did you? Sometimes the Muse is cheap!). However, I was feeling adventurous so I decided to grab some of the No7 Cleanse & Care remover and call it a day!
I was thinking somehow this would become a staple as soon as I noticed that it had a pump! W00t! Awesome! Instead of having to dip my cleaner onto my cotton pad I could now pump the cleaner on! Wow how techy!
The coolness ends right there my friends. Aside from the ultra awesome pump this does absolutely nothing in the way of removing hardcore eye makeup!
I didn't have much on but it was a whole lot of tugging to get it to remove anything. A few swipes later and about half a bottle I had successfully removed about 60% of my eyeshadow and none of my mascara.
Sigh.
Well that chalks this up as heading right into the trash can! $8 bucks down the drain and still a load of eye makeup on!
Boo Boots! I'm disappointed in you!
Have you used this?
Love it?
Hate it?
Tell the Muse!