March 11, 2008
Rimmel Underground Spring Collection 2008: Rock, Spark, and Spin
Yea, yea, just call me a regular drugstore whore.
I'm quite a freak lately and have been making the rounds into drugstores far and wide. I'd normally never venture within the realms of a US Drugstore however I've had to get a few things for our mate, Rows, at Mostly Makeup thus I've seen the inside of one too many drugstores lately and I find…I'm sorta liking it!
I ran across Rimmel's Spring Collection while rolling around the floor at Harmon's searching out Milani Wet/Dry Eyeshadows that weren't to be had or seen!
The collection consists of 6 cream shadow trios, 5 sparkling eye pencils, and 6 potted lipglosses.
Rimmel is far from my favorite brand of cosmetics even though my sister swears by it like it's God's given gift to the mortal soul.
I've only tried one item from the entire line and that was enough to set me off it for good. I can't recall exactly but it was a mascara and that stuff flaked, ran, smudged, and just made me scream in agonizing pain at the unjustness of cheap mascara! WHY GOD WHY!
However, the Rimmel Spring display did tempt me. It was all bold and bright and the eye pencils called my name and said "Buy us! Buy us! We're only $3.99 Each!"
So…I brought 'em.
The eyeshadows held little appeal as I'm not much for creams and the idea of having three creams in one pot with no dividers made me shudder in fear! Imagine the mess?
The glosses weren't exactly that fab either!
However, the idea of a sparkling pencil did get me slightly excited and the price was $3.99 so I got four of the five colors (I'd have gotten five but they sold out of the black shade!).
I purchased these because they reminded me of MAC's sparkler pencil yet in deeper, darker, funkier colors!
Well…..the verdict is in and they go on smooth enough with a bit of tugging but I dunno I'm not thrilled. The formula could be a bit softer for easier application but it's not completely bad either!
$3.99 USD isn't too bad a price and the color selection is quite gorgeous however I didn't see so much sparkle but as just an eyeliner they did an ok job!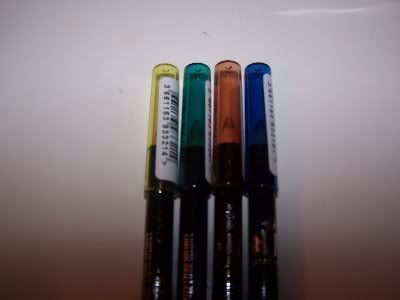 The colors I got were Peridot which is a cold dark blue, Tiger's Eye which is a gold based brown, Ultra Violet which is a sea green, and Lapis which is a brownish copper.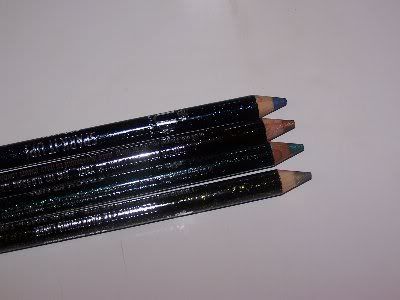 The good news is these have fabulous staying power. These babies aren't going anywhere once on! I seriously had to do some major tugging to get them off with oil based makeup remover! No fading, no smudging, and lasted all damn day and night!
Tiger's Eye, Ultra Violet, Peridot, and Lapis

Sorry guys the swatches all kinda look the same! New cam is on the way soonish!
As I said for the price you can't really beat 'em! I can't Muse Approve these but I'd definately recommend heading to your local drugstore and having a peek!
You can see more of the collection at Lipstick, Powder, n' Paint! Click!
Have these?
Want 'em?
Love Rimmel?
Tell the Muse!