March 10, 2008
Your Current Beauty Addictions
My tastes in cosmetics varies from day to day, week to week, and month to month. What was my favorite last month is most likely not my favorite this month. I have such a variety of product that I am constantly rotating what I have and finding new favorites each day!
I thought I'd do a post that examined some of my favorite items at the moment!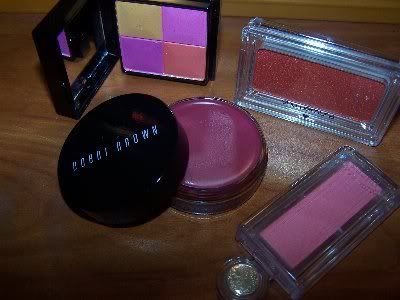 Givenchy Prism Again! Blush in Arty (Click to see more of the Arty Collection)
I love the look of the Arty Blush on my cheeks. It's a cross between a very soft pink and a gorgeous peach. The mix of colors gives my face such a beautiful glow! This has been on my list of favorites since it's release and probably will remain a favorite for a good while!
Shu Uemura Blush in P Orange 58D (Click to see me wearing it!)
Shu's P Orange 58D is one of my favorite colors in the line! It's a beautiful peach that just looks so natural and lovely on! Anytime I wear it I get a ton of compliments!
Bobbi Brown Rouge Pot for Cheeks and Lips in Raspberry (Click here to see more of the Bobbi Brown Pink Raspberry Collection!)
Bobbi's got my vote for awesome when it comes to the potted rouge for cheeks and lips! Simplicity is sometimes best and this gives me just flushed cheeks in a flash with little effort!
MJ has such a beautiful range of products at such an affordable price you can't help but want to collect them all! Most of the MJ blushes are on my hit list of favorites and PK333 is most definately a fav for flushed cheeks!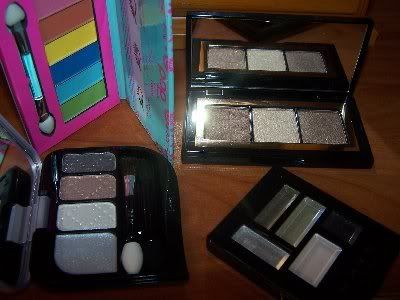 Pop Lid Neon Palette (Click to read my review of this palette!)
You know the Muse and bold! Pop's Lid Neon Palette satifies my need for bold, vibrant shades and will work well into the Summer! Most definately a fav!
Bobbi Brown Metallics Palette in Burnt Sugar (Click here to read a review about the Metallics Collection! Click here to see my FOTD using Burnt Sugar.)
The Metallics Collection was definately a fav of mine but Burnt Sugar ended up on my hit list for a great looking, natural look!
Aube Jewelry Shower Palette in EX02 (Click to see more of the Aube Holiday Collection! Click here to read a review on Aube's Jewelry Shower Eyes!)
Aube's LE palette in EX02 was part of the Holiday Collection and is definately a fav of mine at the moment! It creates a beautiful shimmering look that's natural yet elegant!
KATE Glamtrick Palette in GN1 (Click here to see me wearing GN1 and click here to see more of the KATE Spring Collection)
GN-1 is my absolute favorite palette of the year! Outstandingly awesome pigmentation and creates thee most flattering and gorgeous smokey green eye!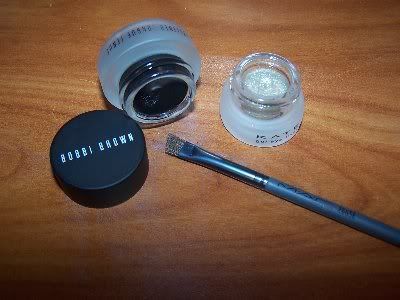 This little gem has become a fast favorite for the Muse and I can't stop myself from reaching for it daily! It's true love for sure!
KATE's Power Gel Liner in GD1 (Click to read more about KATE's Spring Collection)
I adored the metallic shades that KATE came out with this season and GD1 is definately on my favorite hit list!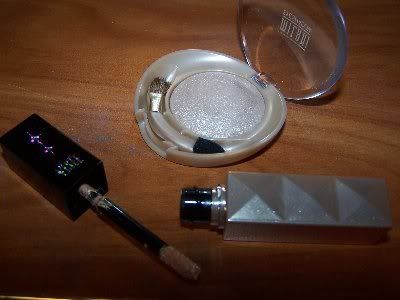 Milani Wet/Dry Eyeshadow in Beach Sand (Click to read my review on Milani's new Wet/Dry Shadows!)
What's not to love? It shimmers, it sparkles, it shines, I can pair it up with everything, the Muse likey ALOT!
Visee Aqua Shining Eyes in BE300
The Muse loves this color! It's natural, shimmery, and beautiful! It's been on my favorite list for a few months now and I see no end in site for it's ability to wow me!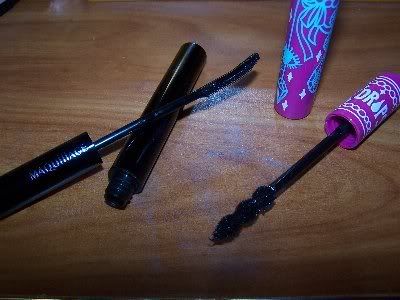 Fairy Drops Mascara (Click for a review on this awesome little mascara!)
The Muse's reader and mate, Taryn, hooked me up with this and I've been a true user every since! I reach for this about 4-5 times a week! It gives me the perfect natural curl!
Maquillage Mascara Combing Glamour
At the moment Maquillage Combing Glamour seems to be what I reach for daily when I'm not grabbing Fairy Drops! I love the ultra slim comb that reaches all my lashes and curls! curls! curls them up and out!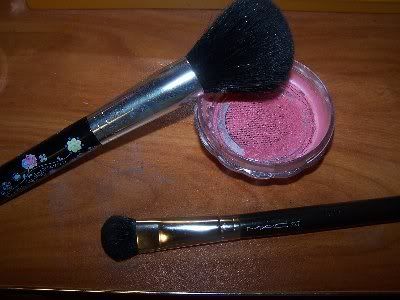 Cynthia Rowley for Avon Blush Brush (Click to see the Cynthia Rowley Collection)
This brush has been a fav of mine since I got it. Dirt cheap but works a charm! It's large and perfect for dusting on powder and blushes!
MAC 227 (Click to read my drama with MAC's 227!)
MAC's 227 is something that you'd have to pry from my cold dead hands. This brush is my absolute holy grail! It blends cleanly and brilliantly! I get little to no fall out when using this! It highlights and packs on color like a pro! I sweat this brush so hard! It is presently on my favorite list and there it shall remain ever more!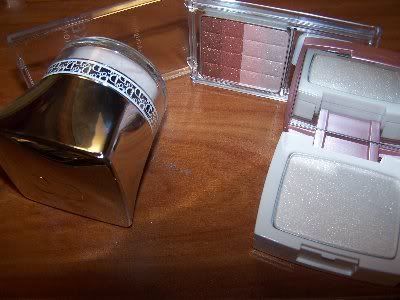 Canmake Cheek Gradation in Chocolate
One of Canmake's most pigmented Cheek Gradations in my opinion! Gives a healthy dose of beautiful color! Has been on my favorite list for ages and shall remain ever after!
Gransebon Gran Brush in 10
Highlights, Shimmers, Sparkles, and makes me look killer! My absolute favorite in the line of Gran Brushes!
DiorShow Powder in Porcelain Pink
The perfect shimmer to add to my cheeks!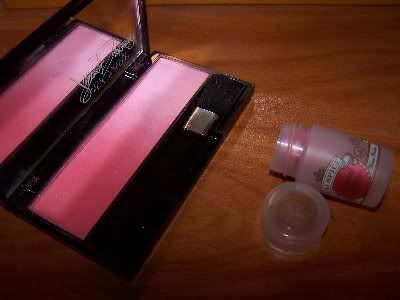 Jillian Dempsey Horizon Blush in Apricot Horizon (Click to hear my mad raves about this new blush!)
What's not to love? It's beautiful, it's bold, and it makes me look like I just stepped in from the cold! Pure perfection a blush!
MJ Spice Blush in Sensual Spice
Who doesn't just love the ultra cute Spice Blushers? So sweet! Packaging wise they are adorable plus they give just the right amount of color to cheeks, eyes, anywhere! Sensual Spice has been a favorite this past month for me as it goes fantastic with some of my MAC Fafi looks I've been creating!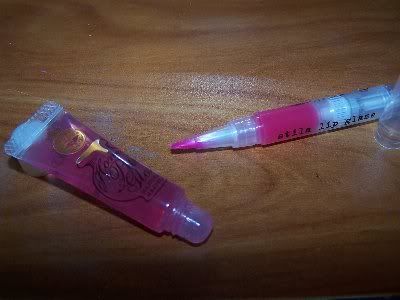 Stila Lipglaze in Raspberry (Click to see me wearing this!)
I adore this color. It's been on my favorite list for the past few weeks! It's such a fresh, juicy pink!
MJ Honey Plump Gloss in Pink
I love toting this around with me for touch ups! Although it's unflavored it still is a favorite for quick touch ups minus any sticky, tacky feelings!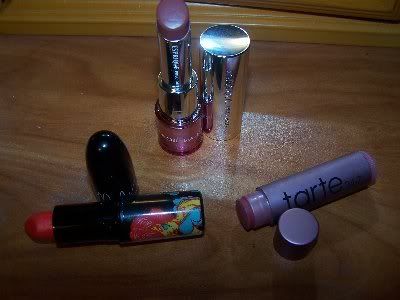 Esprique Precious Lipstick in BR300
This was recommend to me by my most gorgeous mate Iris and it remains on my hit list from the day I purchased it a year ago! It's the perfect, natural shade of brown that looks elegant paired with a cool peach blush!
Flash n Dash is one of those lipshades that can be worn bright and bold or toned down for a more natural look! Flash n Dash is one shade I may need a back up of! A beautiful shade!
Dior Long Wearing Moisturizing Concealer
One of my must have concealers at the moment! Works well with my dry under eye area and covers everything up making me look fresh and awake!
Dior Radiance Booster Pen
A favorite for touch ups as well as day to day wear! This is another of my absolute favorite concealers that reflects just enough light around my eye area to make me look awake and refreshed!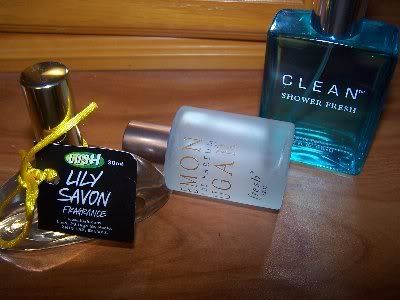 Clean Shower Fresh Parfum
One of my favorite scents of the moment! Smells just like you stepped from a shower! Love that soap and water scent!
I'm not much for florals but the smell of Lily Savon totally makes me swoon! A hit for me in February it's still going strong as a favorite in March!
This rarely gets taken down from my fav list! It's wonderful light yet strong enough to last throughout the day! Beautiful!
Lush's Skin Shangra La Facial Moisturizer
It's cold. Which means my face is dry and flakey! Skin Shangra La is my life saver during the winter for beautiful, flawless skin!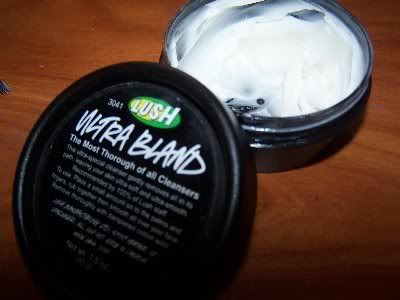 Lush's Ultra Bland Cleanser
I'm normally a big lover of Philosophy Purity and it's what I use most days but when the weather is cold and my skin is suffering from dryness I reach for Ultra Bland to remove my makeup! It's absolutely perfect for removing stubborn mascara and eye makeup plus it leaves my face feeling as smooth as a baby's behind!
Boot's Ultimate Lift Eye Gel
I cannot live without this stuff. Seriously. It's been on my favorite list since my lovely mate Rows from Mostly Makeup gifted it to me! It works amazingly well at waking my eyes up, keeping them from puffying up, and just generally making my eyes behave like that of a 19 year old! Thanks Rows the Muse hearts you for getting her hooked on this stuff!
Dr Denese Hydroshield Eye Serum
I can't live without this stuff either. It's been on my favorite list for about two months now. It's the perfect night eye treatment! Keeps my dry under eye moisturized to the max plus reduces fine lines in a major way from what I seen! Review coming soon!
How about you guys?
What are some of your absolute favorite Beauty Addictions of the moment?
Any of my favorites match up with yours?
Tell your Muse!