October 27, 2010
Temptalia for the 2010 Blogging Scholarship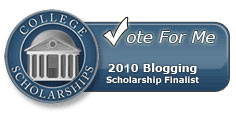 If you don't blog its kinda hard to understand how the entire process goes down. Some are casual bloggers, some take it more serious than others, and some start a blog but never quite update as frequently as they hoped they would when they originally started it.
Bloggers come in many shapes, sizes, ages, and walks of life. We all blog because we're passionate about the subject we choose to babble about.
One of the most passionate bloggers out there, as many of you already know, is Christine from Temptalia. No one takes blogging more seriously. She blogs makeup like her life depends on it and she points out every little detail about a product in her reviews.
If you don't know Christine or you just talk to her via comments or Twitter you probably aren't realizing the amount of money, time, and patience that goes into her site. This a young lady that has college courses to attend to, plus life, and of course, a full time dedication to her website. Taking pictures, writing up reviews, swatching products, paying for entire MAC collections, plus having to worry about keeping her site on a stable, working server which costs money to run isn't a joke. I should know, I do much of the same here on Musings but mind you, Temptalia, is a way bigger fish to fry and alot more work goes into her.
Here's the deal.
I'd like to show my support and I hope you'll show your support towards the 2010 Blogging Scholarship, which recognizes students who blog. Christine happens to be one of the contenders. She wrote a 300 word essay about blogging.
Here's an excerpt from her essay…
Bogging is vital to me, because it has given tangible meaning to my heart and soul. Through blogging, I have learned my passion lies in beauty by providing firsthand experiences to help others. Blogging is my method of self-expression, but it has brought me together with like minded individuals and allowed us to build a community based on that passion. I have been given opportunities to interact with my readers, both on and offline, and there is nothing more rewarding than being able to help someone""even if it is recommending a lipstick. That lipstick recommendation just might inspire confidence in a self-conscious teenager!
The first place winner will receives a $10,000 scholarship to help pay for school. Christine is one of ten finalists in the running for the scholarship.
I submitted my vote earlier today as I believe, with all her hard work on Temptalia, she deserves this scholarship.
I hope you'll take time out to support her. I know she's a backbone for me daily. I wouldn't be able to get through days without her support and this is one way I can give that support back to her.
Please visit her site at www.temptalia.com and click on the link to vote!
Disclaimer: Christine did not ask me to write this post nor does she even know I'm posting it. I am not affiliated with Temptalia.com aside from being friends with it's editor. This post is to show my appreciation for not only that friendship but to help support a friend!