I must say that I'm duly impressed with Victoria's Secret's beauty efforts as of late! I've always been a pretty ok fan of their Bath and Body line and perfume selections but not so much the cosmetics. As of late they have introduced some pretty interesting items that even caught my snobbish eye.
I must say this summer many of the interesting little pieces they came out with have ended up in my collection! The beauty department at VS has evolved from simple mosaic blushes, shadows, and glosses to an array of slick black packaged compacts!
I was tempted by quite a little pile of goodies this season! I haven't yet tried them all, this girl has too much to get through and sometimes forgets what she has, but I will review what I've used so far! I've included a bit of cosmetic porn from my collection to feast your eyes on as well!
Sparkling Diamond Collection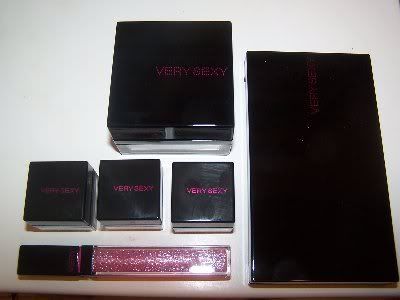 I've tried all of the new Diamond collection items and I must say overall they are pretty nice, inexpensive too! The entire collection consists of 3 Shadows, 4 Lipglosses, 1 Blush, and 1 Sparkling Powder. I ended up with 1 gloss out of the 4, all the shadows, the powder, and the blusher.
I've tried a majority of it out for size but have yet to try the blusher! I'm sorta saving it for some reason or another, I don't know why, who the hell knows how my mind works!
The gloss is super sparkly and really glides on smooth! Not tacky, not sticky! Really a great layer to some lip stain or lipstick.
The shadows aren't a favorite of mine. Color is not pigmented at all, if you're looking at the jar and thinking "Wow what a cute blue sparkle", think again! I got blue, green, and pink and none have given my eye any color or pop! The great thing about them is they do give you a truly great sparkle but only when layered with an eyeshadow that has color. These seem to be weak in the color department on their very own!
Sparkling Diamond Eye Shadow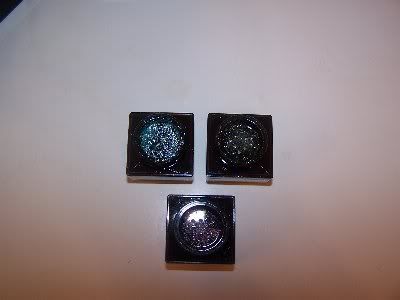 Now the two best pieces of this collection have got to be the Diamond Sparkling Powder and Blush! The claim is (which I don't believe for a single second) that the powder, shadows, and blush contain "real" crushed diamonds. Ummm yea right. But ANYWAY….whether or not they contain real crushed diamonds is to be determined (I've taken them to the lab and I'm awaiting the test results). The Sparkling Powder is truly a wonderful edition to your collection and is just perfect for anywhere. Eyes, Cheeks, Body, you name it! Personally I like using it on my eyes for some hardcore sparkle or my cheeks. I also tried it on my lips and it looks awesome!
Sparkling Diamond Powder

The blush I haven't tried yet but I can tell it's going to be a favorite of mine too! It's heavy duty in the sparkle department and it looks like it'll give out nice color! We shall see when I get around to taking it out of my beauty vault and using it. For now I just take it out at night, whisper to it how much I love it, polish it, and put it back under lock and key.
Sparkling Diamond Blush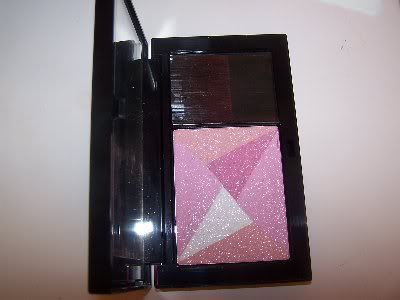 Ok..so that's the Diamond Collection girls!
Now another interesting line up from VS is the new Bare Bronze Collection. This consisted of a few nice palettes but if you read my prior blogs you understand that bronze, tans, bronzing, etc…are NOT my THING!
Now, to go back on my earlier judgment of hating bronzing bits and pieces I decided to purchase two of the eye palettes from this collection. To my delight I am in love with both!
They have a touch of shimmer to them and are pigmented enough for even the snobbiest of snobs to love!
Bare Bronze Collection

Bare Bronze Collection

The collection also included glosses, bronzer powders, and lipstick palettes! The only thing that really appealed to me was the shadow palettes. A majority of the collection is on sale right now during the Semi-Annual so you might want to skip your way to VS or see the online catalog to nab a deal or two or three..or four!
My final purchase was part of another new collection VS put out (WOW they are going nuts now aren't they?)! As an extension to the Angel Perfume line they have now created an Angel makeup collection which they entitled Heavenly Face. This isn't too big a collection but it's sweet none the less! It included two double cream blushes, one shadow quad, and two double ended glosses. I ended up with the palette only as I'm a fiend for shadow quads!
I haven't used it yet but I did swipe my finger across one of the shadows and it has nice texture and a tad bit of shimmer to it! The packaging screams cuteness!
Heavenly Faces Collection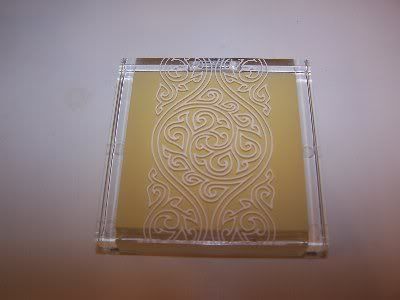 Heavenly Faces Collection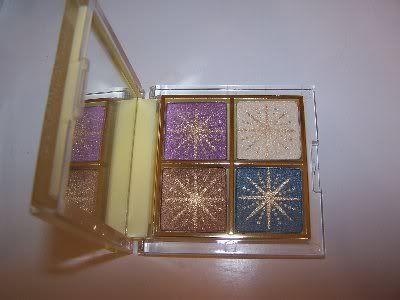 So kids the moral of today's story is, Victoria's Secret has evolved and is introducing new and exciting products in the cosmetics world and making addicts like myself gag with wanting! It's not just for knickers anymore 😉 Victoria's Secret wants you to purchase your beauty, bath and body, fragrance, AND panties from them!
Get shopping! Nab some deals! Semi Annual sale is in progress WHY are you still reading?
My Oh My! I do believe I forgot to mention the most important part! All items are….wait for it……pause……longer pause……………….limited edition!